Facebook Conversations Ignored by Brands
When Facebook came up with the idea of offering business pages for brands, everyone jumped in the wagon and started building brand pages blindly. Now after few years, there are very few brands who are maintaining their pages and promoting conversations, most of the companies have either forgotten to update or are using FB page for just promoting their products.
What these companies fail to realize is that Facebook is a social networking channel whose primary goal is to communicate and build relations. One of the shocking revelations came from CEO of Socialbakers who mentioned in one of his posts about the lack of interactions brands have on their Fan Pages. Only 5% of wall posts by consumers are responded to.
I suppose a lot of it has to do with the fact that brands jumped in too quickly to get themselves on FB and probably wasn't aware of how the page needs to be maintained. If you do not have a brand page, it is understandable, but having one and not using it in the right way is simply harmful for your reputation. It's like having a contact us form and never responding to inquiries.
Check out the response rate of brands in various verticals below. You would be surprised to see the poor rates.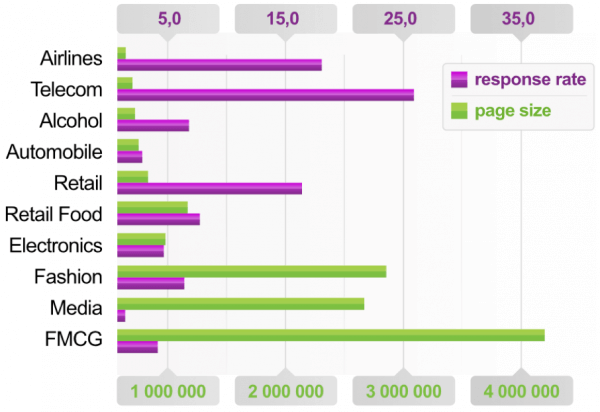 I'm not surprised to see that many companies have even disabled comments on their wall. What is the point of then having a Facebook page, you might as well be good with simply a website. For these companies having is a FB page is rather harmful to their own brand identity.
Here are some keys for owning a Facebook page:
If you cannot maintain a Facebook conversation, do not have a page in the first place.
Monitor what your consumers are saying, they have come to interact with you, do not let their messages go unattended.
Respond to negative comments properly, instead of deleting them or blocking comments.
Facebook is not a sales channel, do not just use it to post your promotions.
Use tools to monitor conversations, there are many of them out there.